Quick Tips for Choosing the Right Moving Boxes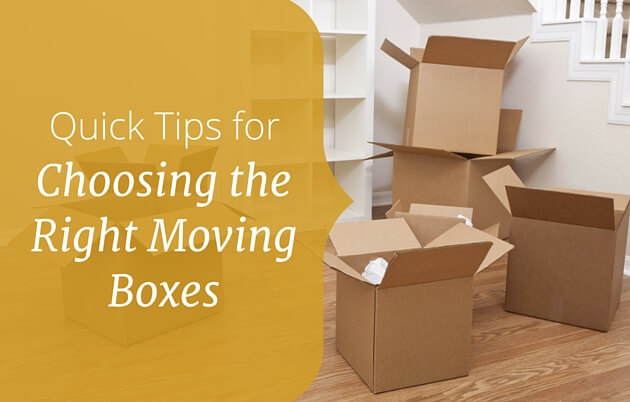 A blog about boxes? That's right. There really is a method to the madness of selecting the right boxes for your move. Because if you want your things to arrive safely and in one piece, it's all starts with the box.
Using a mishmash of boxes in all different shapes and sizes only serves to make the packing process take longer. Plus, your load will be less secure as your boxes won't be properly stacked and they risk falling over, which is exactly how things end up lost or broken.
It's best to use boxes that come in standard sizes, like the kind you buy from a moving company or a storage rental facility. When I teach packing classes, I cover some general rules on what to pack into which type and size of container. Here are my best tips on choosing the right moving boxes for the right things.
Standard Moving Boxes
Make sure you or your movers can safely load the moving truck by using these standard moving box sizes:
Book Carton (1.5 cube or small carton) – Used for heavy, non-breakable items such as books, tools, files, supplies, paper, canned foods, spices, photos, picture albums, CDs, videos, and bathroom supplies, plus other odds and ends.
Medium Carton(3.0 cube carton) – Great for general non-breakable items that are of medium weight, like clothing, toys, games, plastic containers, pots, pans, food (not canned), lamp shades, small framed pictures, decorative items and artificial plants.
Medium Large Carton(4.5 cube carton) – Works for non-breakable items that are large and lighter weight, such as clothing, shoes, bed linens, pillows, towels, blankets, lamp shades, metal/plastic cookware, toys, artificial plants, sports and camping gear.
Large Carton (6.0 cube carton) – Perfect for the really big stuff that doesn't fit into anything else, like stuffed animals, comforters, giant pillows, tents and sleeping bags.
Dish and/or Glass Packs(or Glass Packs) – Protects anything that's breakable, including dishes, china, stemware, glassware, serving pieces, figurines, small art pieces, lamp bases, art glass and statues.
Mirror and/or Picture Boxes – Perfectly sized for framed art, mirrors, screens and glass top tables. Some boxes can be telescoped, which means you can connect the top of one box to the bottom of another if you need a longer fit. Another option is to use a four-piece carton that allows you to fit the box to the size of your art.
Hanging Wardrobes – Great for hanging clothing, coats, table cloths and curtains. These can also be used for large, tall bulky items like artificial trees, umbrellas, walking sticks, canes and other miscellaneous odds and ends. Want to maximize your wardrobe space? Load up the bottom of the wardrobe with shoes and boots before hanging clothes
Specialty Cartons – Ideal for those hard-to-pack items like computers and flat-screen TVs
Recommended Packing Supplies
Help better protect your items with these packing supplies:
Bubble Wrap or Paper Pads– Used to wrap artwork and mirrors before placing them into picture packs, or wrapping lamp bases, statues or other larger items before placing them into cartons.
Mattress Cartons or Mattress Bags– Always recommended so the mattress doesn't get dirty on the truck or at other times during the move.
Packing Paper – Always have LOTS of packing paper or unprinted newsprint on hand for wrapping breakables and padding cartons. Want to save on supplies? Linens and towels work as protective padding, too!
Take the NextStep
Want assistance in packing for your move? NextStep Transitions offers downsizing and organizations services to help you sort, pack and label all of your belongings. Get started by scheduling your free consultation today.