Why Moving Your Own Parents Is Not Always The Best Idea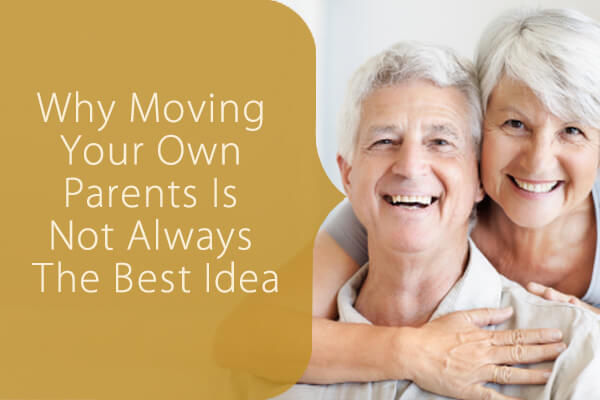 It is ironic to me how many people over-simplify their parents move to a smaller residence or retirement community.  People who lived their entire adult lives in one residence, raised a family in that home and were part of a neighborhood and local community have deep roots. If you want to transplant them successfully, you must do so with care. If you rip them away without the proper tending to, they will not flourish. It seems silly to compare our parents to a plant, however, the reality is that for most people those roots go deep. They are interconnected with other people and are even more deeply connected to their things. For a senior transition to be successful, everyone and everything needs to be removed gently and with great respect. This will help maintain the integrity and well being of the person who is leaving their home.   
What I've learned moving families over these past 10 years is that sometimes even the best intentions can go wrong. Sometimes adult children think they know what to do to help their parents move. They take a few days off from their busy schedules, they make decisions for their parents, they move through the house pulling and packing things that they have decided their parents will need, and all of this with very little direct interaction with their Mom or Dad.
At the time, they thought they were doing everything right. They thought they knew what was best and that if they just got the job done that things would all work out and that their parents would adjust. Certainly they had the very best intentions and they believed that they were moving forward for the health and welfare of their parents. Perhaps they also thought it would be a simple process and that doing it themselves would save time and money. What they did not see coming was the resistance from their parents and the derailment of their plan. What started as helping Mom and Dad somehow turned into frustration, increased stress for all and damaged relationships that they may not get back.
There was a better way to do it. A Senior Move Manager could have helped navigate the process by working with those parents to identify what things they were taking with them and to help determine what happened to the rest. We benefit both the people moving and their families by being the impartial party that keeps things on track and keeps their eye on the end goal. We help to bring closure to one chapter and provide a positive start to their next one.
If you elect to go it alone, without any outside help to downsize and relocate your parents then we have a few suggestions. These tips have served us well over the years to help minimize the stress points and put you on the right track to a cooperative, successful move.
Tips to help downsize and relocate your parents yourself:
Don't assume you know what they need or want – ASK them. Create a plan for downsizing and getting them through their home to identify the items they want to take with them and the items they wish to gift to family and friends. 
It is their stuff, not yours. People forget that. Even if they have not been in the attic for years, some people will still just want to see what is there to retain their power and control. They want to be the one to say they don't need it. Telling someone they don't need something or that their possessions are not important is never a good idea. What was your reaction the last time someone told you that you couldn't have something? 

Prepare a legitimate, to scale "space plan" of their new residence. It should show where all the furniture is to be placed. This helps both you and your parents visualize the space and also helps in those negotiating moments when they have to pick one thing over another. This makes it real.

Show respect even when you don't understand their attachment to things. Maybe use this time to learn about your parents. Find out the why of things, hear the stories, you may just learn a few things about them, and yourself! 

Ask permission. Do not assume you can dispose of things without getting their consensus.

Remember – it is not YOUR move, it is THEIR move. You need to move them through the process at the pace which suits them and meets their needs.
You can't take short cuts when it comes to moving someone out of their family home of many years. If you do, there is a price to be paid. We have worked with hundreds of individuals and families to get them through the obstacle course of successfully moving. We know that EVERY transition is different. Each and every one has a unique path that is just as personalized as the individual(s) that are moving.